This is the Revolt information vault where older news items, technical reports, and so on, are stored
Click on the arrows to link to the indexes
| | | |
| --- | --- | --- |
| | Air quality issues | Herwin's challenges to the GWRC's incomplete and inaccurate bus pollution statements |
| | Air pollution graphs | Herwin's slide presentation |
| | Air quality issues | From NZTA and Otago University |
| | Bus priority survey 2019 | Rather long and detailed telling us most of the basics of what we know, but gives no real solutions. |
| | Technical reports | Various reports relating to trolley buses and their infrastructure |
| | Ottawa LRT | Ottawa, Canada, changes their BRT (Bus Rapid Transit) to light rail. |
| | Presentation by Dr Neil Douglas | Light rail in Australian cities |
| | Articulated battery & trolley buses 2019 | Trending in Europe where the focus is on reducing energy input |
| | New trolley buses | Swiss trolley bus from 2017. Runs on and off the overhead wires. Commentary in German. |
| | Trackless trams | A possible option for Wellington instead of light rail. Perth, West Australia, is investigating their implementation. |
| | Electric buses | New battery and super capacitor electric bus options for Wellington. |

| | | |
| --- | --- | --- |
| | Wellington trolley bus history | A photographic history of the Wellington trolley buses by Alan Wickens. |
| | Wellington trolley bus history | From Wikipedia a history of the Wellington trolley buses. |
| | Wellington trolley buses - Nostalgia | Various YouTube videos. |
| | |
| --- | --- |
| | This extensive environmental report was prepared after the trolley bus removal was announced, but over a year before the destruction of the infrastructure was implemented. The GWRC ignored the environmental impact of an all diesel fleet. To read the report Click here |
Wellington's 2018 aged diesel bus fleet on east - west routes. Some buses have done over 1 million kms.
For the inventory of the fleet as it was late 2019 Click here Many of these buses are Euro 3, banned in most first world countries, and 75% of them are older than the withdrawn trolley buses.
Who voted to remove the non polluting trolley buses ? Click here
The effects of the decision to remove trolley buses and replace them with old diesel buses, on the west - east corridor from Karori to Seatoun, for the next decade, are:
Diesel bus movements every 10 minutes peak hours, 15 minutes off peak.

More than double the pollution of the combined trolley and diesel bus era.
Negative health impacts on our children, and cyclists.

12 schools, 8 shopping areas and CBD impacted.

Golden Mile pedestrians and outdoor cafe patrons adversely affected.

Significant 6dBD rise in noise affecting residents and pedestrians.

Reduction in house values along the route.

There is NO itemised commitment for the next 10 years in the Greater Wellington Regional Council draft long term plan (LTP) to accelerate the replacement of polluting diesels with electric buses. However at the Sustainable Transport Committee meeting Dec 2019 it was announced that negotiations are underway with bus service vendors to increase the present 10 battery bus numbers to 80 by the end of 2020. The plan for NZ Bus to convert 50 redundant trolley buses to battery power has been abandoned and these buses will be scrapped. The Government announced in 2018 that they they will provide $768,000 worth of funding for charging stations at Karori and Kilbirnie.
A modern Swiss trolley bus which runs
either on battery or overhead wires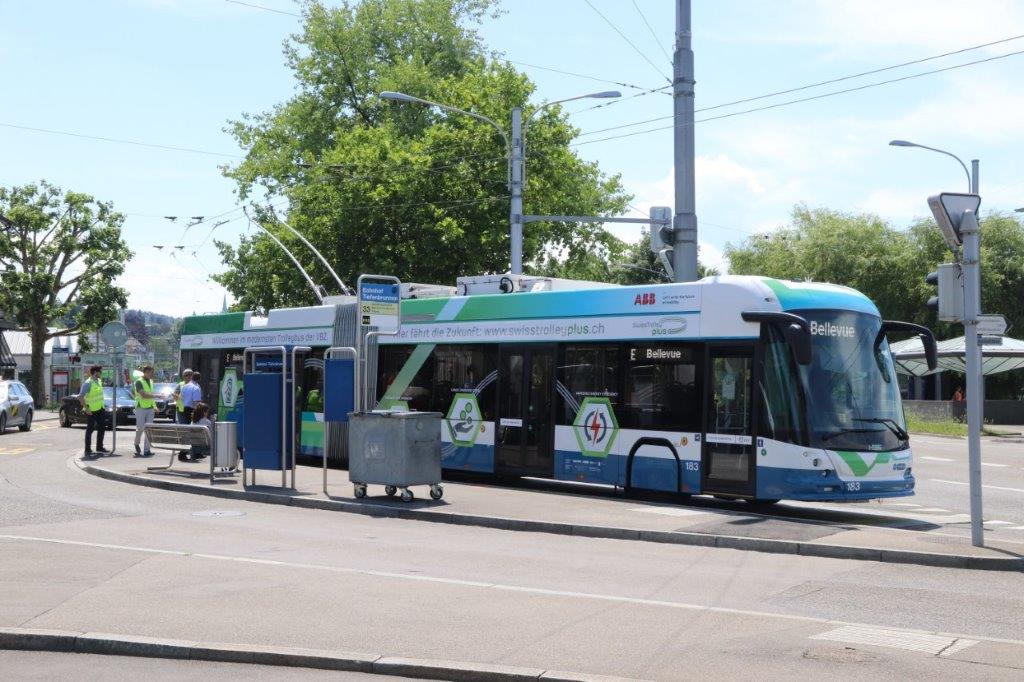 Meanwhile in Wellington
| | | |
| --- | --- | --- |
| | | Campaigning for a faster transition to electric buses and rid Wellington of noise and carcinogenic emissions |